Company outing at the quite nice Riverside Stadium in Newark.
The box we got was also a pleasant surprise.
Here it is from the outside. We had our own set of seats. Very nice.
It was camp day at the stadium. What's camp day? SUMMER CAMP day. Thankfully, no summer campers running amok in our box, just groups of colorful t-shirts in the stands.
You have to click this one to be able to read the marquee.
The cloud swooped in after seven innings like a supernatural force.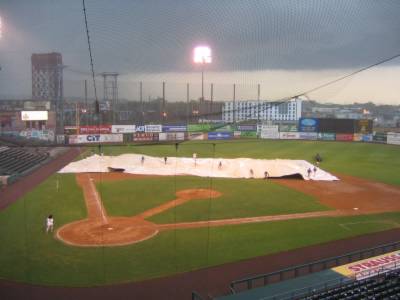 The efforts of the tarp crew in the teeming rain turned out to be the entertainment highlight of the day.