This is only a secret from New Yorkers. There are hundreds of thousands of people who know this secret, but they all live in New Jersey. The best view of Ground Zero is from the path station and the train itself. The Path train loops around the floor of the hole, providing a totally unique perspective on the site -for $1.50.
Though I believe that the corner stone
can't be viewed
by the public from behind the fence that rings the hole, I'm pretty sure that spot can be seen from the Path.
Comparing the shot I took from the Hoboken train and the grab from that
great panorama photo
, it looks like it wouldn't be hard to see the cornerstone from the train or even the platform in the station.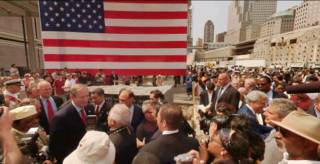 Panorama sample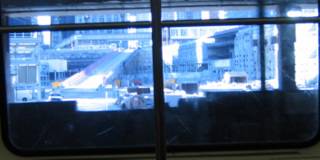 Path View (taken some time between Jan and March '04)

I just read the Times piece referred to in the Curbed post and they mention there is a view from the Vesey St. pedestrian bridge. If I'm wandering around this weekend I'll see what kind of view I can find from the station. (I'd rather not get on the actual train if I don't have to. Ug.)